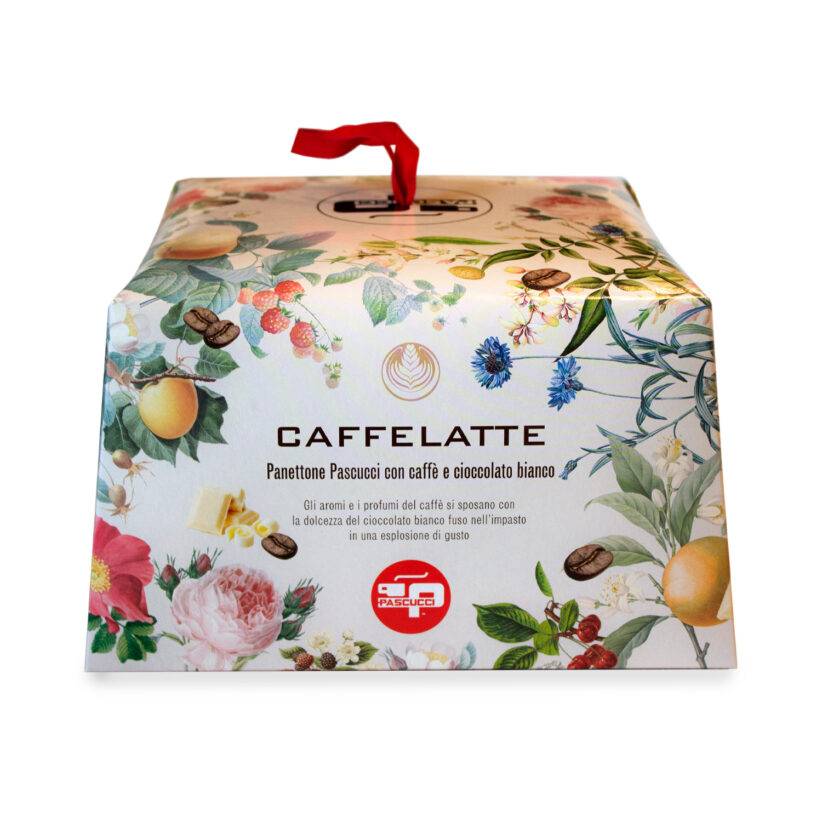 Panettone Caffelatte
The aromas and scents of coffee are combined with the sweetness of white chocolate melted in the dough in an explosion of taste.
Panettone without sultanas or candied citrus fruits, with white chocolate drops and coffee.
Naturally leavened, oven-baked product.
Ingredients: wheat flour type "0", white chocolate 19% (sugar, whole milk powder, cocoa butter, skimmed milk powder, emulsifiers: soy lecithin, vanilla natural aroma), butter (milk), egg yolk of class A from free range hens 10%, sugar, natural yeast (wheat flour, water), emulsifier: mono and diglycerides of fatty acids, whole milk 3%, instant coffee 1% (soluble coffee, roasted coffee), invert sugar syrup, cocoa butter, salt, honey, glucose/fructose syrup, natural coffee flavoring, barley malt extraxt, natural flavour, natural flavour of Bourbon vanilla.
May contain traces of other nuts.
Storage conditions: store in a cool, dry place at a max. temperature of 18 – 20 C°. Do not expose the product to sunlight or heat sources.
Nutrition information (average values per 100 g):
Energy: 1586 kj / 388 kcal
Fats: 20,7 g
– Of which saturated fatty acids: 11,8 g
Carbohydrates: 46,0 g
– Of which sugars: 21,8 g
Proteins: 6,5 g
Salt: 0,46 g
Weight: 750 g
Product in Italy by Galup Srl
21,12 €
News